RESULTS OF
MAS OYAMA'S GOLD CUP 2002
OPEN KNOCKDOWN KYOKUSHIN TOURNAMENT
MONTREAL, QUEBEC
MARCH 23, 2002

Report of the Tournament
written by Edwin Sabugo and Jimmy Carrasco
We would like to congratulate Sensei Dominic Ohan, Sensei George Ohan, and Shihan Claude Bouchard, for their 5th successful Mas Oyama's Gold Cup Tournament. This was our first time participating in a tournament and we would like to share our personal experiences of this event. The location was comfortable, the organizers and staff were friendly and helpful. The public showed great respect to the competitors, which we personally enjoyed since there were only two of us competing from our Dojo and we had no fans.
The entrance of the competitors (open ceremony) was spectacular with the colored lights, smoke, etc, but the smoke made the competitors uncomfortable, giving us dry throats and making it difficult to breath. This was a common complain among the competitors. Overall the presentation was excellent.
We would like to give my complements to the competitors, we all fought with a good spirit, and we give our appreciation to the referees, organizers and medical staff, who were all very helpful. This experience will last us a lifetime. We have learned so much about our capabilities and further more, about our weaknesses. We view our training differently now as we know better what to expect for future tournaments. We would also like to thank our Sensei Angel Carrasco, for his teaching and giving us the opportunity to participate in this event. OSU!

NOVICE DIVISION

MALE LIGHT WEIGHT
MALE HEAVY WEIGHT
FEMALE LIGHT WEIGHT
FEMALE HEAVY WEIGHT
1st
Kris Jones
1st
Edwin Sabugo
1st
Laura Smith
1st
Arlene Vega
2nd
Philp Gaudet
2nd
Justin Culzac
2nd
Veronique Levesque
2nd
Melanie Tremblay
3rd
Dave Stewart
3rd
Johnny Masella
3rd
Nicole Lamont
3rd
Kate Isley
FULL CONTACT DIVISION

MALE LIGHT WEIGHT

MALE MIDDLE WEIGHT

MALE HEAVY WEIGHT
WOMEN FULL CONTACT
1st
Mikhail Zimmerman
1st
Gabriel Kenesettes
1st
Bages Zeideia
1st
Julie Nadeau
2nd
Sandra Sadighi
2nd
John Kaszba
2nd
Robert Poirier
2nd
Anna Falk
3rd
Mathieu Thibeault
3rd
Jimmy Carrasco
3rd
Paul Gray
3rd
Carole Larochelle


SEMI-CONTACT DIVISION (1 to 4 & 9 to 10 KYU)

MALE (13-17 YEARS OLD)
1 TO 4 KYU
MALE (13-17 YEARS OLD)
SHODAN & HIGHER
MALE (18 YEARS OLD & OVER)
1 TO 4 KYU - MIDDLE WEIGHT
FEMALE (18 YEARS OLD & OVER)
9 TO 10 KYU - MIDDLE WEIGHT
1st
1st
1st
1st
2nd
Benoit Porlier
2nd
2nd
Denis Plamondon
2nd
3rd
Benjaafar Nizar
3rd
Carlos Santizo
3rd
3rd
Marisa Leone

SEMI-CONTACT DIVISION (5-8 KYU)

MALE (4-5 YEARS OLD)
MALE (6-12 YEARS OLD)
MALE (13-17 YEARS OLD)
FEMALE (6-12 YEARS OLD)
1st
Hugo Perrin
1st
Maxime Ouellet
1st
1st
2nd
2nd
Anais Désautels
2nd
Carl Olivier Prime
2nd
3rd
3rd
Hakim Sedaoui
3rd
3rd
SEMI-CONTACT DIVISION (5-8 KYU)

FEMALE (13-17 YEARS OLD)
FEMALE (18 YEARS OLD & OVER)
LIGHT WEIGHT
FEMALE (18 YEARS OLD & OVER)
MIDDLE WEIGHT
MALE (18 YEARS OLD & OVER)
MIDDLE WEIGHT
1st
Kawsar Shiry
1st
Elysabelle Cajuste
1st
Laurin Christiane
1st
2nd
Catherine Audet
2nd
2nd
Amy Rotella
2nd
Richard Lauze
3rd
3rd
Celine Des Chenes
3rd
Nancy Tremblay
3rd


PICTURES FROM
"MAS OYAMA'S GOLD CUP 2002 TOURNAMENT"
Here are some pictures from the The Mas Oyama Gold Cup 2002 Tournament. If you have some pictures from this tournament and will like to be added on this site. Please sent it to me ( carrasco@shaw.ca ) and will try to add as much as I can.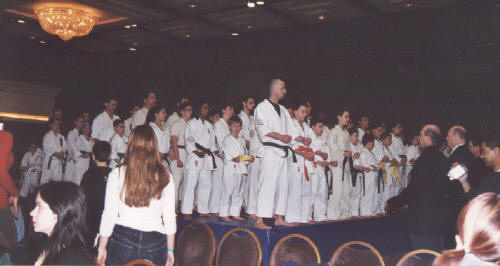 Some of the competitors on the Morning open ceremony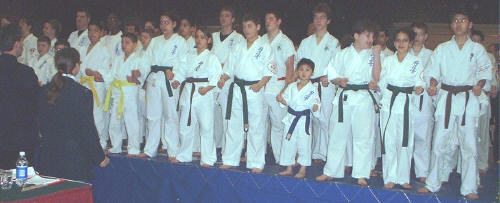 More competitors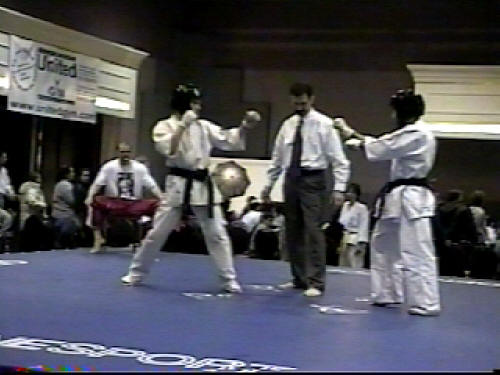 Junior Division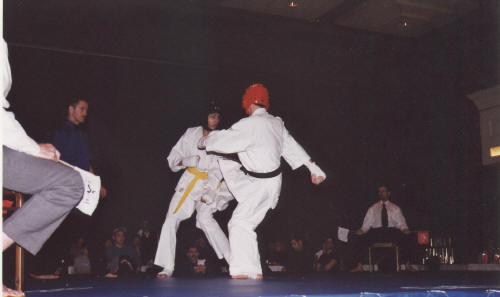 Junior Division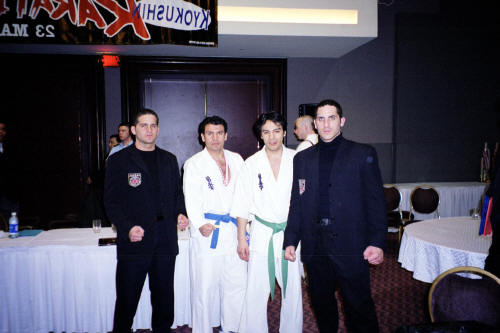 Sensei Dominic Ohan, Edwin Sabugo, Jimmy Carrasco, George Ohan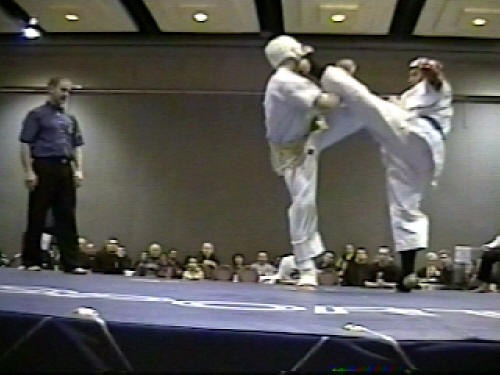 Edwin Sabugo (right) executing a Jodan Mawashi Geri in one of his fight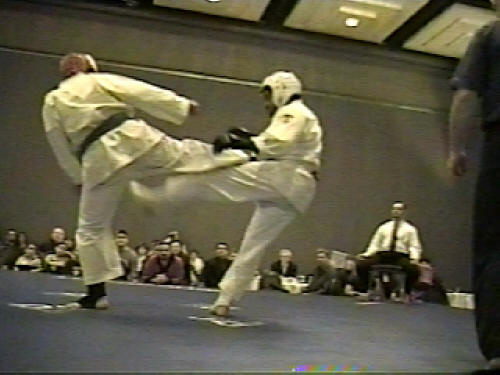 Edwin Sabugo conecting with Yoko Geri Chudan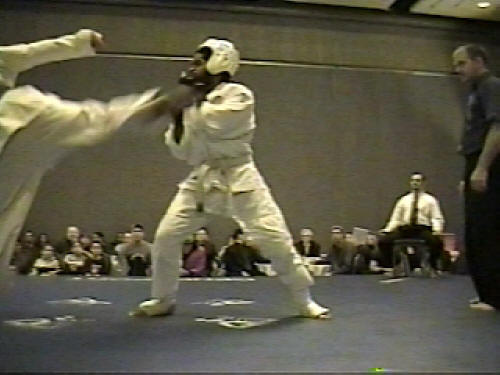 Edwin Sabugo conecting with Jodan Mawashi Geri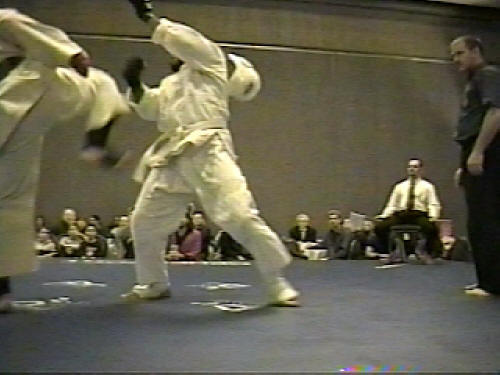 Edwin Sabugo (left) and his opponent (right) who is going down after receiving a Jodan Mawashi Geri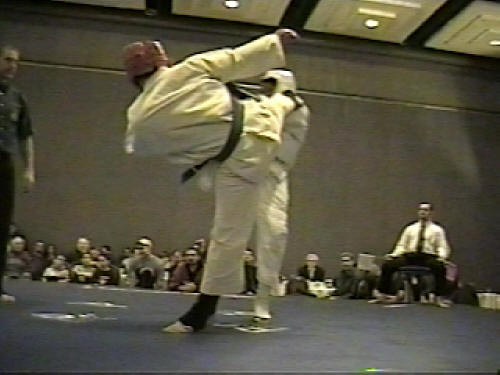 Edwin Sabugo (front) throwing a Jodan Mawashi Geri at his opponent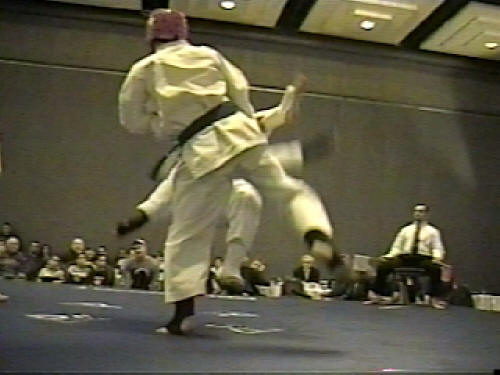 Edwin, watch his opponent going down after a successful
Jodan Mawashi Geri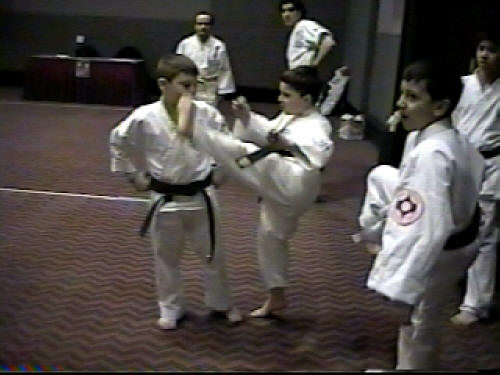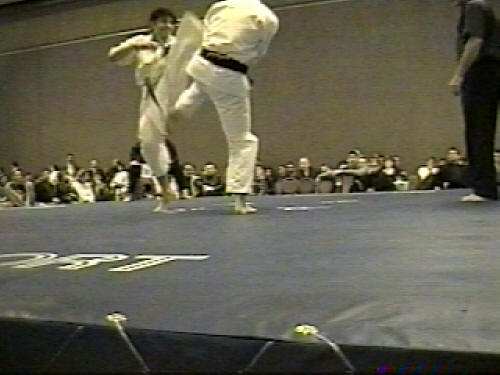 Jimmy Carrasco (left) trowing a Jodan Mae Geri to his oponent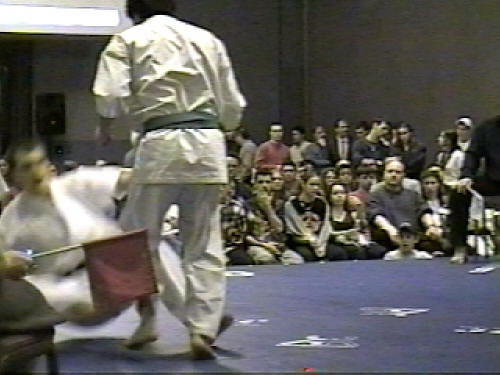 Jimmy Carrasco (Standing up) watch his oponent going down to the floor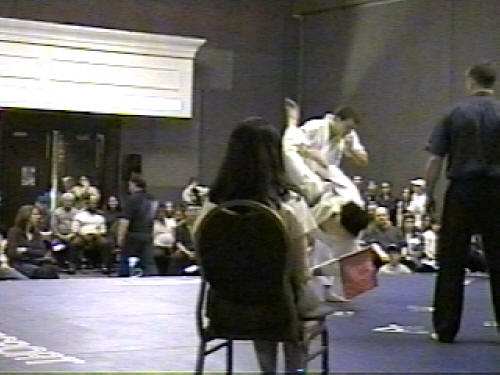 Jimmy Carrasco in his attemp to conect with a Domawashi Kaiten Geri
(turning rolling kick)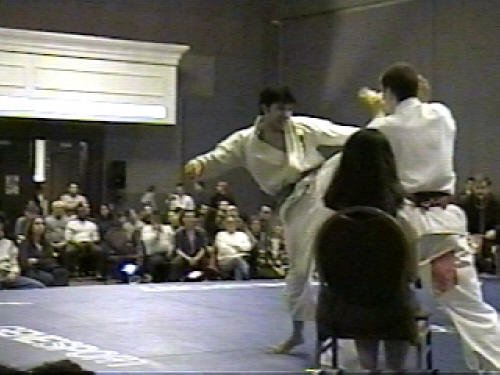 Jimmy Carrasco (left) is been blocked by his oponent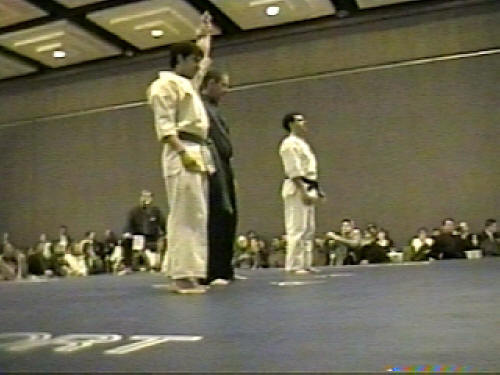 Jimmy carrasco (left) winning one of his fight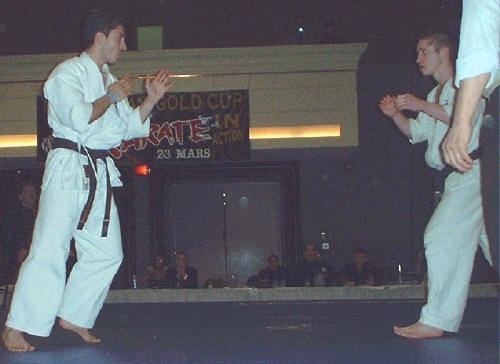 Ready to go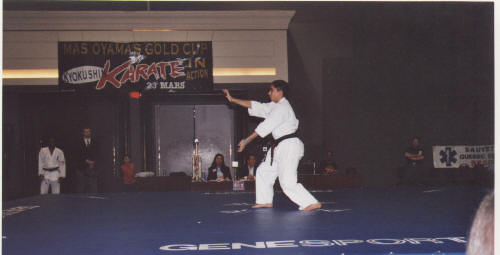 Kata competitor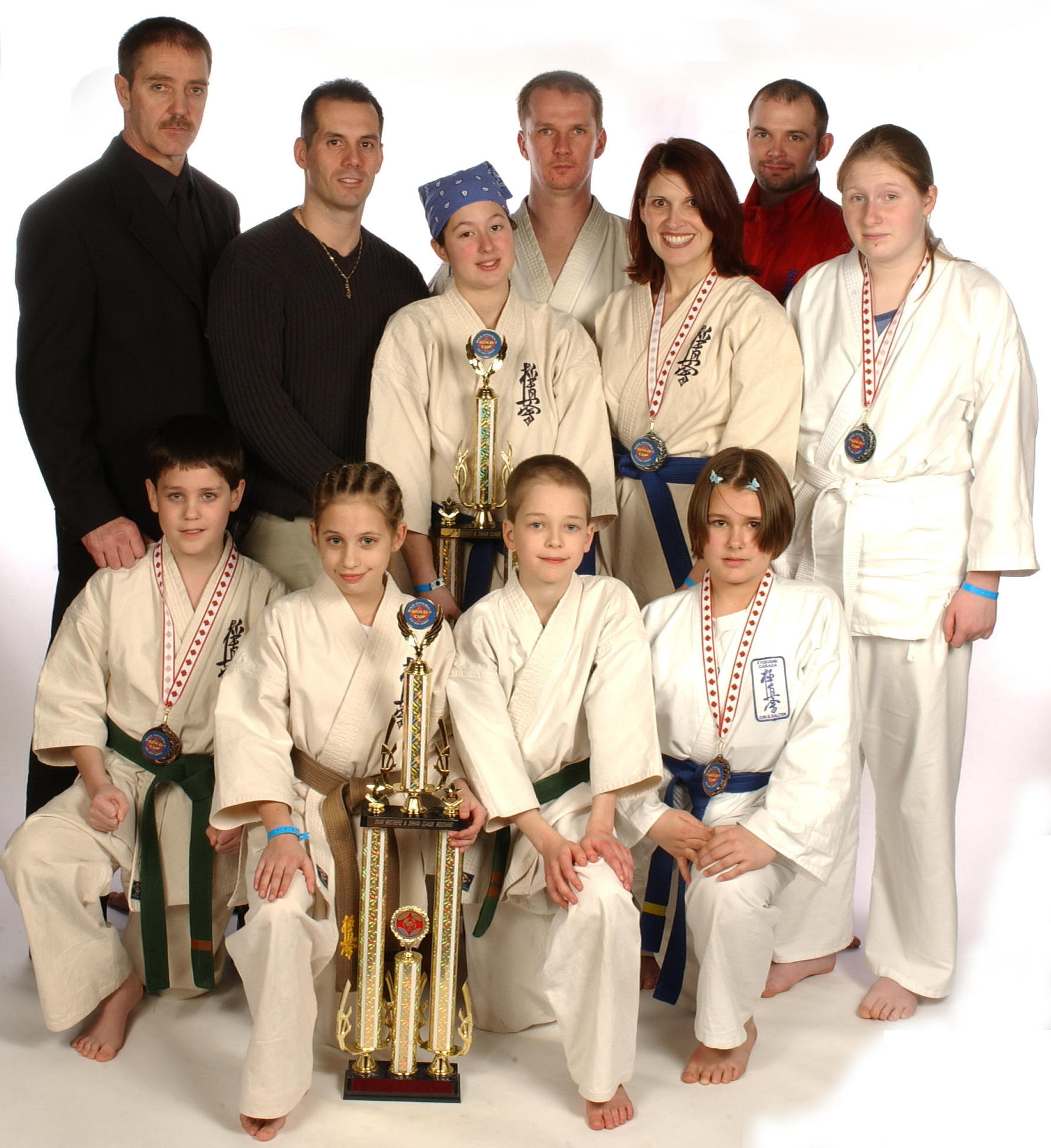 From left, Shihan Guy Salter, Senpai Sheldon Atkinson
with some of the winners at the Gold Cup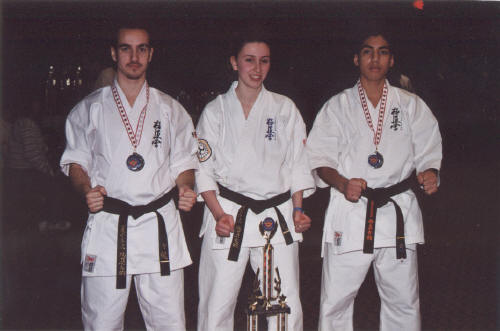 Kata Winners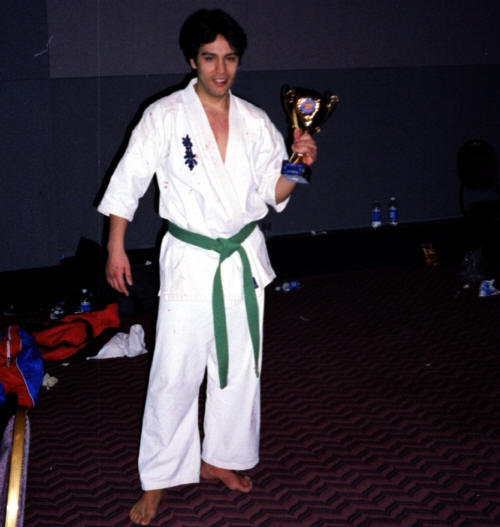 Jimmy Carrasco from Winnipeg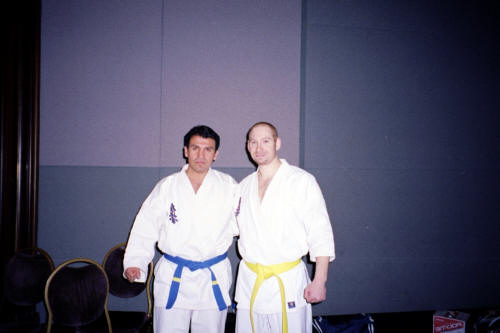 Edwin Sabugo from Winnipeg and David Brader from New Brunswick
CLICK HERE FOR MORE INFORMATION ABOUT THE TOURNAMENT