Thanks to my son
Miguel Carrasco
for his great contribution to this website, the
Winnipeg Kyokushin Karate

Miguel Carrasco-Graduation Day

Miguel Carrasco and Shihan John Taylor visiting Shihan Taylor's Dojo in Australia
Many people send me e-mails complimenting me for this website, however not many people know that without the help and expertise of my son Miguel Carrasco this website would not have been possible. He was responsible in helping me to design this website and also the Kyokushin webring with the idea of unifying Kyokushin Karate in the web. I want to thank him for the many hours he has spent during all these years, helping me with this website and the Kyokushin webring. One of my dreams was to share Kyokushin Karate not only to my students, but also to other people around the world. This website have accomplished this vision. Thank you Miguel for making this dream come true. OSU!!!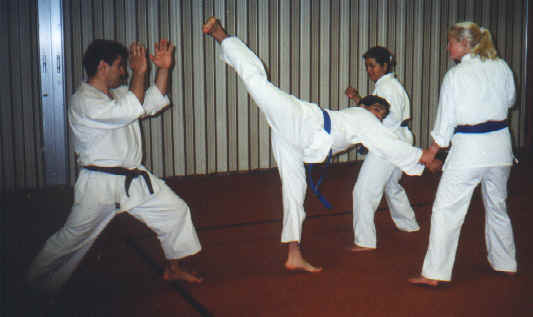 Left to right: Mario Acuņa, Miguel Carrasco, Adriana, Taryn.